Operation Corpus Christi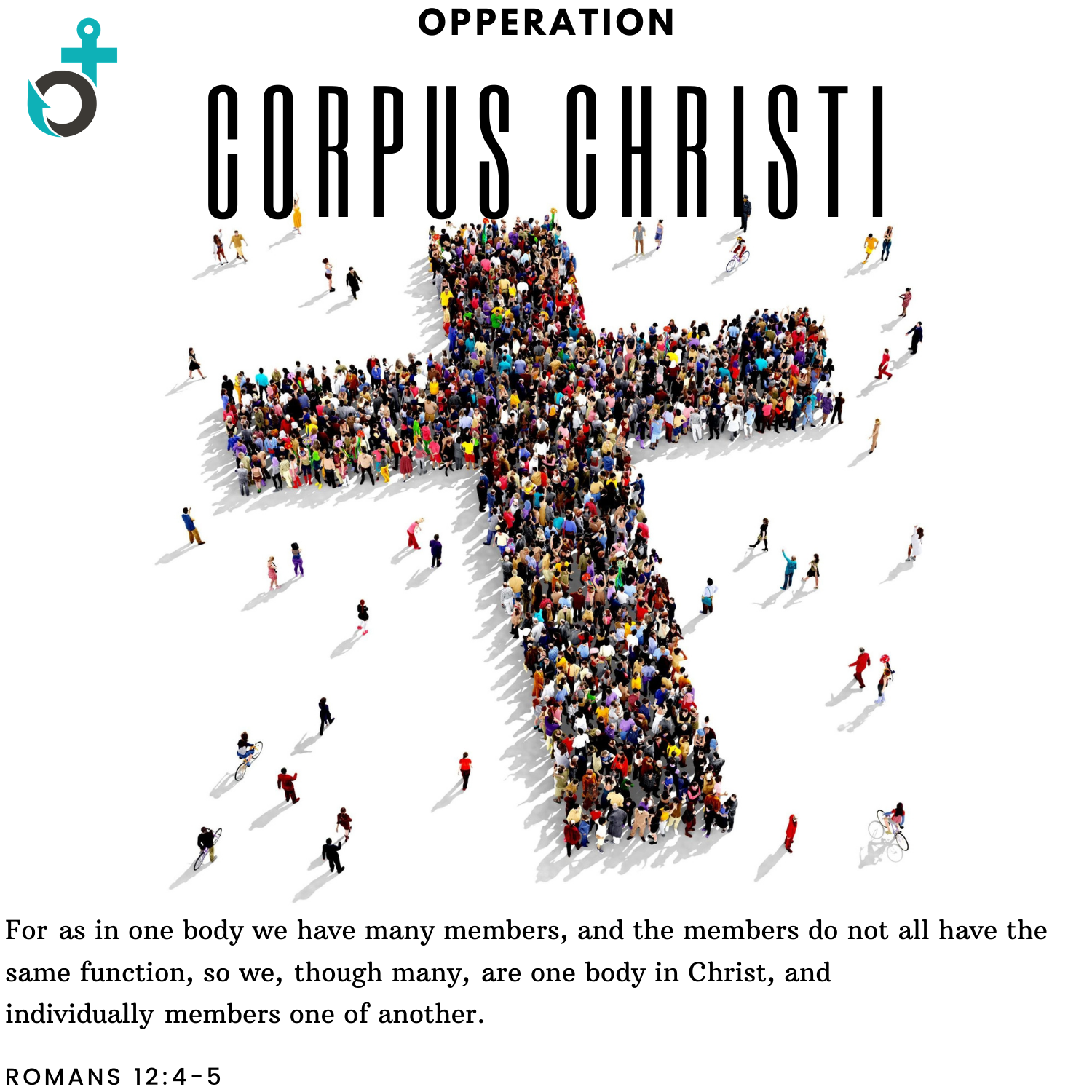 Greetings readers.
We had our first outdoor service on August 23, 2020. There was an excellent response and attendance. We are considering more outdoor services.
Those gathered saw, face-to-face, friends they had not seen in nearly one-half of a year.
For myself, it was surreal. It had flavors of the great reunion in Heaven, and echoes of the feeding of the 5000 as the Lord's Supper was distributed. I thought I saw some tears in folk's eyes. Some sat in family groups, others sat by themself, but no one was alone. We were together, "The Body of Christ" (Corpus Christi, in Latin).
We introduced a new theme the pastors are working on called "Operation Corpus Christi". This will include goals for our faith lives over the next 8-9 months, highlighting a celebration on Easter, 2021
Here are few of those goals. Please look them over.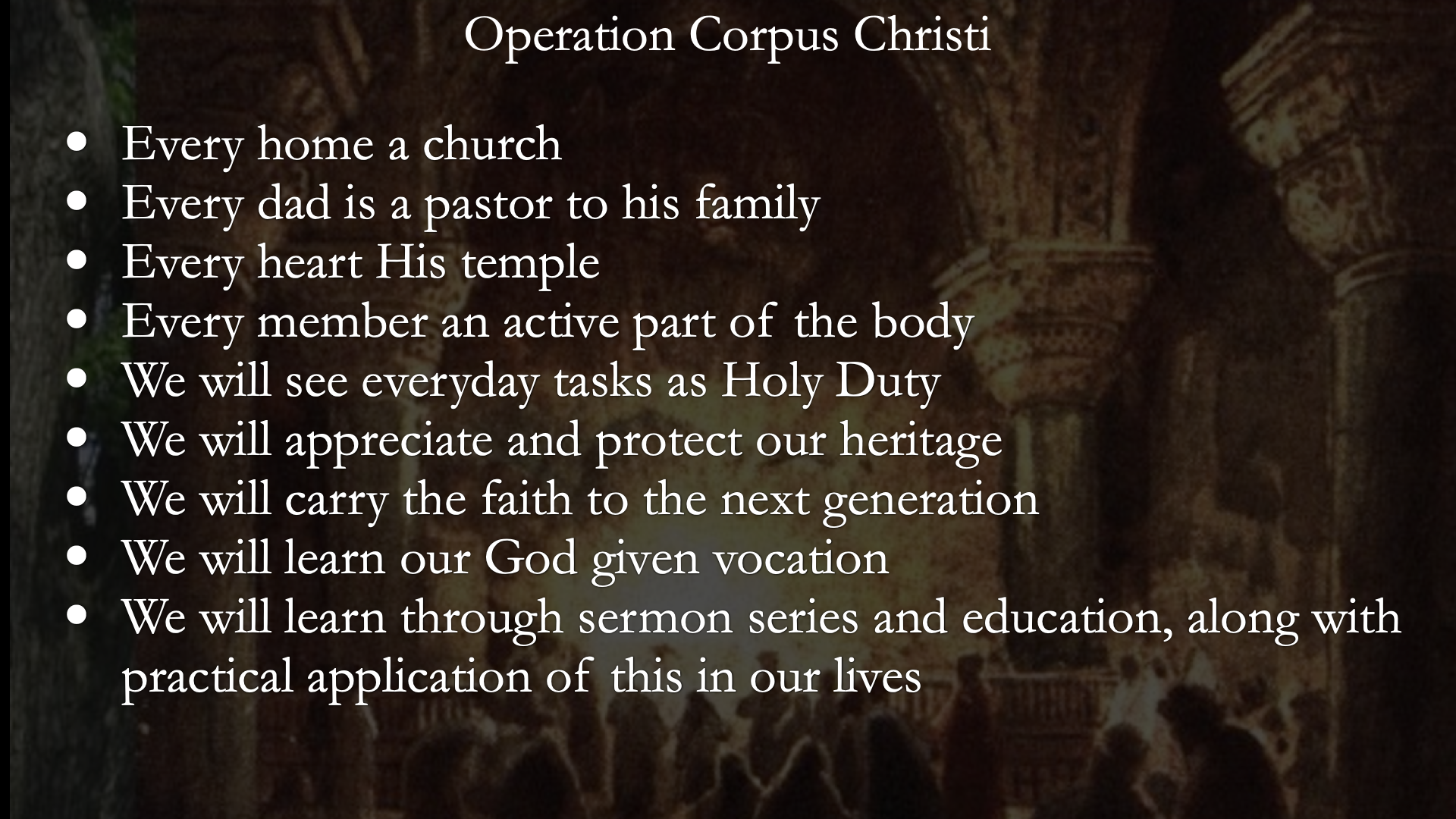 In the sermon that day, the pastor shared some of the stressors of our day. You already know them but seeing them in print helps us understand why we feel the anxiety we do. Here is the slide from the sermon that lists what we are experiencing. The last two lines direct us back to our comforting God who is with us always.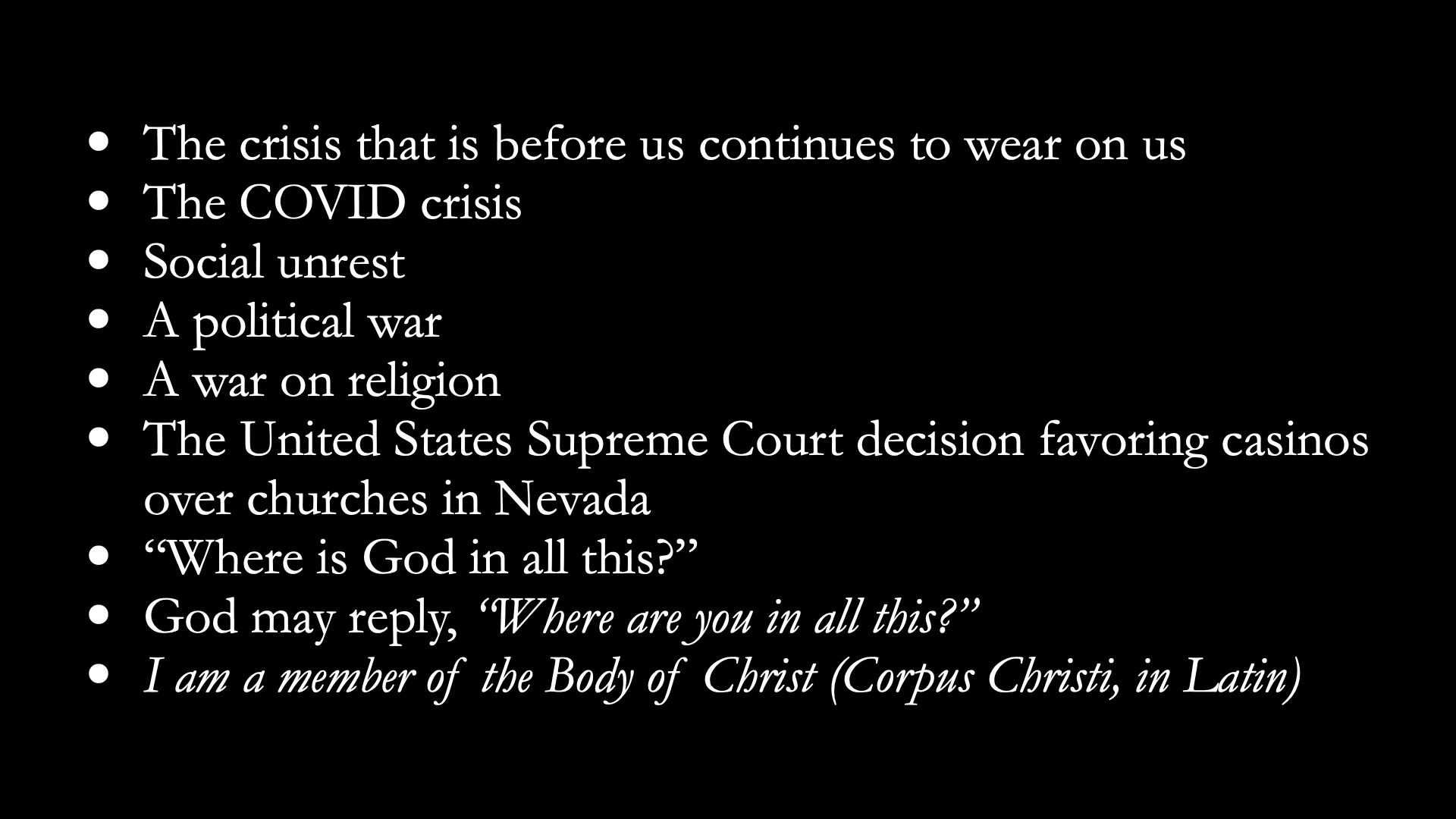 Our nation has been divided before.
The US Civil War comes to mind. Those killed in single battles equaled the populations of whole cities. For example, at the three day Battle of Gettysburg, there were 51,118 killed or injured. As a nation, the Civil War was a "House divided against itself". We moved on from that.
In my lifetime, I recall what were called "race riots" in the 1960's. And the social unrest over the war in Vietnam is large in my memory. Many of you recall images of young people meeting our military men, facing off with them as the young people placed stems of flowers in the barrels of soldier's rifles. And do you remember the Kent State University event, where the National Guard opened fire on protesters, killing some of them? We moved on from that.
We continue to see our nation as a "House divided against itself". Pray for our leaders, all of them. Pray that all men everywhere will be humble, look up and yield their will to the will of their Creator. We will find stability again.
But we, as individuals, need to stay stable!
Take care of yourself. Take care of your soul. Get good sleep, have excellent meals, and get fresh air. Surround yourself in conversations with friends and family. Turn off the news and turn toward music, reading, walks, open windows or a hobby. Spend time alone, in quiet solitude, praying. It will calm any storm that lies within you.
In Operation Corpus Christi, we will grow and learn and reset ourselves on His path (Pssst - I have to do that about 10 times a day!).