Back to Articles
OSLC On-Site Worship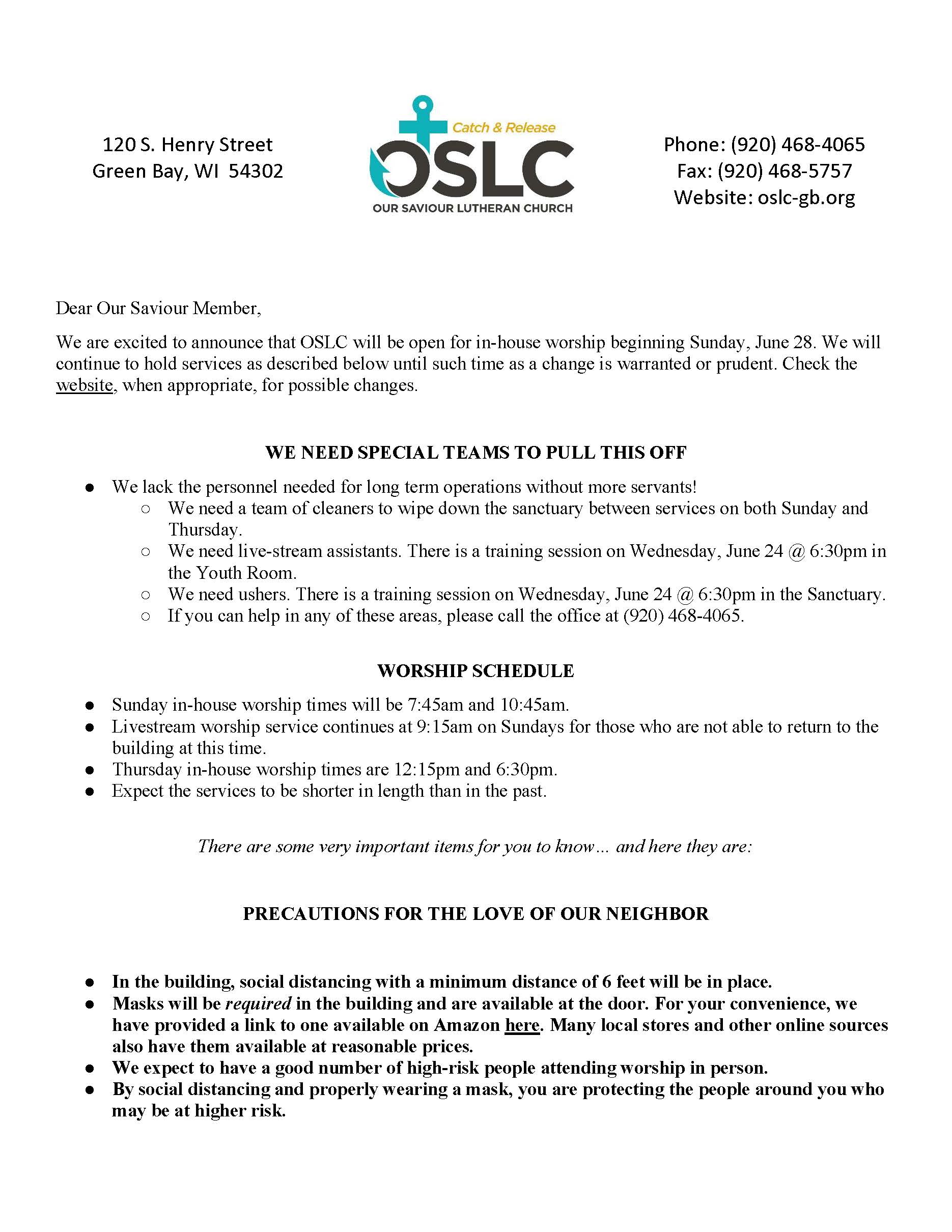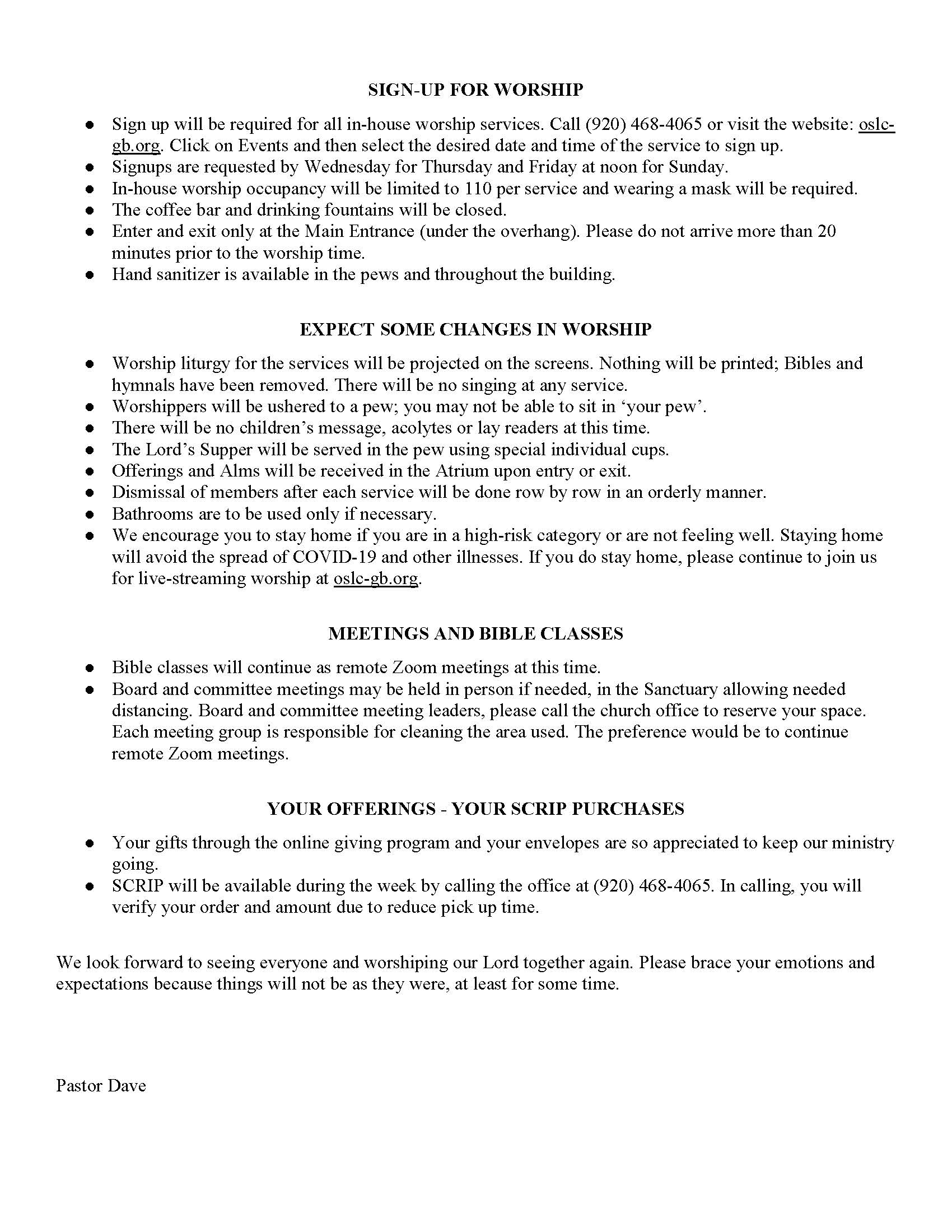 Find Worship Service Registration by going to the events page.
Dear Our Saviour Member,
We are excited to announce that OSLC will be open for in-house worship beginning Sunday, June 28. We will continue to hold services as described below until such time as a change is warranted or prudent. Check the website, when appropriate, for possible changes.
WE NEED SPECIAL TEAMS TO PULL THIS OFF
We lack the personnel needed for long term operations without more servants!

We need a team of cleaners to wipe down the sanctuary between services on both Sunday and Thursday.
We need live-stream assistants. There is a training session on Wednesday, June 24 @ 6:30pm in the Youth Room.
We need ushers. There is a training session on Wednesday, June 24 @ 6:30pm in the Sanctuary.
If you can help in any of these areas, please call the office at (920) 468-4065.
WORSHIP SCHEDULE
Sunday in-house worship times will be 7:45am and 10:45am.
Livestream worship service continues at 9:15am on Sundays for those who are not able to return to the building at this time.
Thursday in-house worship times are 12:15pm and 6:30pm.
Expect the services to be shorter in length than in the past.
There are some very important items for you to know… and here they are:
PRECAUTIONS FOR THE LOVE OF OUR NEIGHBOR
In the building, social distancing with a minimum distance of 6 feet will be in place.
Masks will be required in the building and are available at the door. For your convenience, we have provided a link to one available on Amazon here. Many local stores and other online sources also have them available at reasonable prices.
We expect to have a good number of high-risk people attending worship in person.
By social distancing and properly wearing a mask, you are protecting the people around you who may be at higher risk.
SIGN-UP FOR WORSHIP
Sign up will be required for all in-house worship services. Call (920) 468-4065 or visit the website: oslc-gb.org. Click on Events and then select the desired date and time of the service to sign up.
Signups are requested by Wednesday for Thursday and Friday at noon for Sunday.
In-house worship occupancy will be limited to 110 per service and wearing a mask will be required.
The coffee bar and drinking fountains will be closed.
Enter and exit only at the Main Entrance (under the overhang). Please do not arrive more than 20 minutes prior to the worship time.
Hand sanitizer is available in the pews and throughout the building.
EXPECT SOME CHANGES IN WORSHIP
Worship liturgy for the services will be projected on the screens. Nothing will be printed; Bibles and hymnals have been removed. There will be no singing at any service.
Worshippers will be ushered to a pew; you may not be able to sit in 'your pew'.
There will be no children's message, acolytes or lay readers at this time.
The Lord's Supper will be served in the pew using special individual cups.
Offerings and Alms will be received in the Atrium upon entry or exit.
Dismissal of members after each service will be done row by row in an orderly manner.
Bathrooms are to be used only if necessary.
We encourage you to stay home if you are in a high-risk category or are not feeling well. Staying home will avoid the spread of COVID-19 and other illnesses. If you do stay home, please continue to join us for live-streaming worship at oslc-gb.org.
MEETINGS AND BIBLE CLASSES
Bible classes will continue as remote Zoom meetings at this time.
Board and committee meetings may be held in person if needed, in the Sanctuary allowing needed distancing. Board and committee meeting leaders, please call the church office to reserve your space. Each meeting group is responsible for cleaning the area used. The preference would be to continue remote Zoom meetings.
YOUR OFFERINGS - YOUR SCRIP PURCHASES
Your gifts through the online giving program and your envelopes are so appreciated to keep our ministry going.
SCRIP will be available during the week by calling the office at (920) 468-4065. In calling, you will verify your order and amount due to reduce pick up time.
We look forward to seeing everyone and worshiping our Lord together again. Please brace your emotions and expectations because things will not be as they were, at least for some time.
Pastor Dave